My Blog
Posts for: June, 2018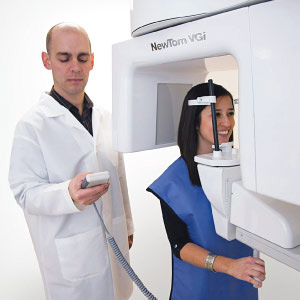 X-rays revolutionized dental care in the 20th Century. The same could happen in the 21st Century as cone beam computed tomography (CBCT) becomes a fixture beside the traditional x-ray machine.
CBCT made its debut in dental offices about a decade and a half ago. It utilizes the same invisible energy as traditional x-rays to create images of the face and jaw. But unlike traditional x-rays, which can only depict structures in the two dimensions of width and height, CBCT can create three-dimensional images in amazing detail.
The CBCT's x-ray projector rotates around a patient's head. As it emits a cone-shaped beam of x-rays, the device simultaneously collects anywhere from 150 to 599 distinct image views. It transmits these views to a computer that assembles them into three-dimensional images that can be viewed on a computer display.
From the data file of images, dentists can re-format a variety of views and angles of teeth, jaws and other facial bones at various levels of magnification. Because of this wide range of views, all in striking detail, CBCTs are highly useful among other things for diagnosis of malocclusions (bad bites), the size and location of infections, obstructions at possible implant sites, or jaw problems prior to surgery.
Because they expose a patient to higher doses of radiation than a standard x-ray machine, they're normally limited to more complex oral situations. That means you'll still undergo standard x-rays for most of your dental treatment needs. CBCT radiation levels are lower, however, than medical CT scans, which use a fan-shaped beam that can expose a patient to ten times the radiation of a CBCT. For dental care, a CBCT machine also produces greater image detail than an MRI.
Depending on your needs, CBCT may one day be a part of your dental care.  With their range and accuracy, it could play a major role in helping you attain good health.
If you would like more information on cone beam diagnostics, please contact us or schedule an appointment for a consultation. You can also learn more about this topic by reading the Dear Doctor magazine article "Getting the Full Picture with Cone Beam Dental Scans."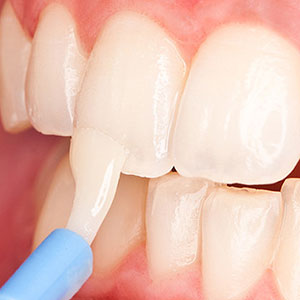 Since the discovery a century ago of its beneficial effect on tooth enamel, fluoride has become an important part of tooth decay prevention. It's routinely added to toothpaste and other hygiene products, and many water utilities add minute amounts of it to their drinking water supplies. Although there have been questions about its safety, multiple studies over the last few decades have eased those concerns.
Children especially benefit from fluoride during their teeth's developing years. Some children are at high risk for decay, especially an aggressive form known as Early Childhood Caries (ECC). ECC can destroy primary (baby) teeth and cause children to lose them prematurely. This can have an adverse effect on incoming permanent teeth, causing them to erupt in the wrong positions creating a bad bite (malocclusion).
For children at high risk for decay, dentists often recommend applying topical fluoride directly to the teeth as added protection against disease. These concentrations of fluoride are much higher than in toothpaste and remain on the teeth for much longer. Topical applications have been shown not only to reduce the risk of new cavities, but to also stop and reverse early decay.
Children usually receive these applications during an office visit after their regular dental cleaning. There are three different ways to apply it: gel, foam or varnish. To prevent swallowing some of the solution (which could induce vomiting, headache or stomach pain) the dentist will often insert a tray similar to a mouth guard to catch any excess solution. Varnishes and a few gels are actually painted on the teeth.
The American Dental Association has intensely studied the use of topical fluoride and found its application can result in substantial decreases in cavities and lost teeth. They've concluded this benefit far outweighs the side effects from ingesting the solution in children six years and older. With proper precautions and waiting to eat for thirty minutes after an application, the possibility of ingestion can be reduced even further.
While topical fluoride can be effective, it's only one part of a good dental care strategy for your child. Consistent daily brushing and flossing, a nutritious diet low in added sugar, and regular dental visits still remain the backbone of preventive care.
If you would like more information on fluoride applications for your child, please contact us or schedule an appointment for a consultation.