My Blog
Posts for: February, 2018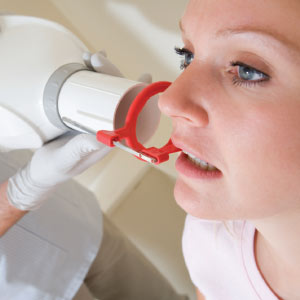 Radiographic (x-ray) images are an indispensible diagnostic tool in dentistry. One of the most routine and useful types of x-rays dentists take is the so-called bitewing. Here are some things you may want to know about this common diagnostic procedure.
What are bitewing x-rays?
Bitewings reveal the presence and extent of decay in the back teeth, specifically in areas where adjacent teeth touch each other. Unlike other areas of the teeth, these contacting surfaces between adjacent teeth can't be examined visually. Bitewings can also show areas of bone loss around teeth — a sign of periodontal disease; however, they are not taken for that purpose because bitewings will not show the complete root surface that is surrounded by bone.
Why are they called that?
The name "bitewing" refers to how the film — or sensor, in the case of a digital x-ray — is positioned in the mouth: The patient bites down on a little tab or wing that holds the apparatus in place.
How often do I need them?
This is determined on a case-by-case basis, with the goal of not exposing you to any more radiation than necessary — even the minimal amount found in a series of bitewing x-rays. Your individual susceptibility to caries (tooth decay) and personal dental history will play a major role in determining how frequently you need radiographic examination — and, for that matter, how often you need to come in for routine cleanings and exams.
Are they safe?
The safety of bitewing x-rays is best illustrated with a comparison to the regular daily radiation exposure we get every day from environmental sources, which is about 0.01 millisieverts — the unit of measure we use for radiation. A series of 4 bitewing x-rays exposes you to 0.004 millisieverts of radiation — less than half of the daily exposure. Undetected tooth decay, which can spread quickly through the softer inner layers of teeth, is considered much more dangerous!
If a bitewing x-ray shows that there is tooth decay, what happens next?
If the cavity is very small, we may be able to treat it during the same appointment. If not, we will make a separate appointment to make sure it is taken care of promptly. The sooner tooth decay is treated, the better!
What if I have more questions?
Contact our office, or schedule an appointment for a consultation.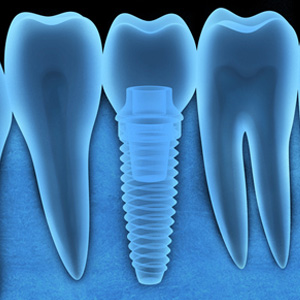 Dental implants are today's closest restorative facsimile to natural teeth. And they're versatile: not only can they replace single teeth but they can also support bridges or dentures.
But since one of their crucial components is made of metal, are you out of luck obtaining this state-of-the-art dental restoration if you have a metal allergy?
The answer is: probably not—it's rare for implants to cause an allergic reaction. Still, metal allergies can be a potential problem within your mouth as with other areas of health.
An allergy originates from the body's necessary response to potentially harmful microorganisms or substances. Sometimes, however, this response becomes chronic and exaggerated, creating an allergy. People can have allergies to nearly anything with responses ranging from a minor rash to a potentially life-threatening multi-organ system shutdown (anaphylactic shock).
A small number of people have allergies to particular metals. One of the most common is nickel, which affects an estimated 17% of women and 3% of men; cobalt and chromium are also known to cause allergies. Consumer exposure, particularly metal contact with the skin through jewelry or clothing, is the most prevalent, but not the most concerning. That's reserved for metal allergies related to medical devices like coronary stents or hip and knee prostheses. And in dentistry, there are rare occasions of inflammation or rashes from metal amalgam fillings.
Which brings us to dental implants: the main metal post that's inserted into the jawbone is usually made of titanium. It's the metal of choice for two reasons: it's bio-compatible, meaning the body normally accepts its presence; and it's osteophilic, which means bone cells readily grow and adhere to it, a major reason for implant durability.
While it's possible for someone to have an allergy and subsequent reaction to implants with titanium, the occurrences appear to be extremely low. In one study of 1,500 patients, titanium allergies were estimated to be a factor in implant failures in less than 1% of those studied.
Even so, if you have known metal allergies you should make sure your dentist knows. Being aware of all the facts will help them recommend the best tooth replacement choice for you—and hopefully it will be dental implants.
If you would like more information on dental implant restorations, please contact us or schedule an appointment for a consultation. You can also learn more about this topic by reading the Dear Doctor article "Metal Allergies to Dental Implants."